Looking to expand your product line? Sub-registration can help you save money, speed up the process, and reduce maintenance/management headaches along the way. What you need to know about the supplemental or sub-registration process for getting your disinfectant on the market - and how much it may cost.
As "buggy" as this may sound, it's true: all antimicrobials, such as sanitizers and disinfectants, sold in the United States must be registered (licensed) by the Environmental Protection Agency (EPA) under the Federal Insecticide, Fungicide, and Rodenticide Act (FIFRA). That's right - the products that make your home fresh and squeaky-clean are regulated right alongside insecticides and rodenticides.
As a toll blender and contract chemical manufacturer, we work with many customers and partners who hold sub-registrations for formulations developed by others, and we're getting a lot more questions about sub-registration these days. Many customers want to know how to get a sanitizer on the market as quickly as possible.
It's worth emphasizing that while sub-registration is the fastest way to get a registered product to market, it doesn't happen overnight. And, to be clear, we don't have final say on the process – the best way to get up-to-date information on this subject is by reading the FIFRA and CFR legislation and checking the EPA's website. This blog is simply meant to break down the sub-registration process in plain English for everyone's benefit.
Without further ado, here's what you need to know.
EPA Sub-Registration: Process and Related Costs
A supplemental registration allows a company or distributor to sell a pesticide, including antimicrobial products like sanitizers or disinfectants, using another company's primary registration.
The owner of an EPA-registered chemical product (the "primary registrant") may authorize other companies to blend, package and market the product registered under third-party label. This is called supplemental distribution (sometimes shortened to supplemental or sub-registration).
As noted above, sub-registration is the fastest way to take a registered product to the market, but it is still a regulated process, and one that requires a significant investment.
NOTE: The company that is the "primary registrant" has to get an EPA Registration Company No.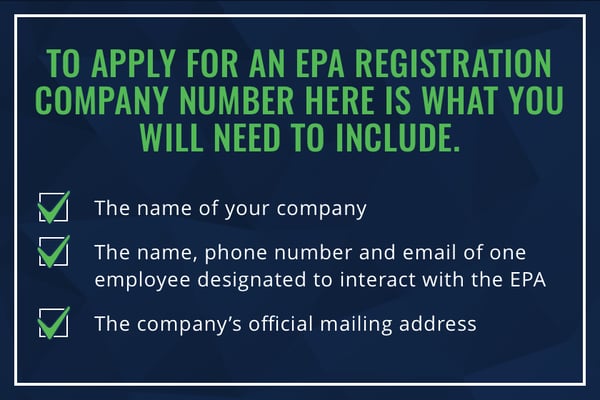 Estimating Costs of an EPA sub-registration
A "typical" registration process depends on the submission type. Nailing down an accurate estimate for time and cost is difficult as it relies on many factors.
In addition to the cost to register a product with the EPA ($5,000-$50,000 on the low end), each state will charge a fee allowing the product to be sold in that state. As of this writing, those fees range from $100 to $1,150. A quick calculation tells you that If a product is sold in all 50 states, you may expect annual state registration fees to run between $5,000 and $15,000 a year. Based on some estimates, the whole process to get a product sub-registered with the EPA and registered in all 50 states could take 80 to 160 hours of administrative filing.
Unfortunately, it's even harder to estimate the costs associated with obtaining the data required to support your registration claims - research, testing and development isn't cheap (or easy).
Because of the considerable resources and management time involved in bringing an antimicrobial product to market, there are many advantages to the supplemental registration option. There are also advantages to working with a company that is experienced in the EPA registration and supplemental registration process. An experienced partner can help you gain access to markets faster, reduce the time and frustrations of completing necessary regulatory requirements and offer in managing ongoing registration activities.
Below, we outline the basic steps in the process. At the end of this article you'll find some additional resources that can help you navigate the process and get your product to market as quickly and efficiently as possible.
Six (or So) Steps to Sub-Registration
Based on the specific

sanitization

or disinfectant need, a person or company may identify the appropriate registered product from the library of EPA approved products or from a company that owns registered products, and work with the primary registrant to obtain a supplemental registration.
Once the registrant and the supplemental distributor enter into an agreement, registrant files a Notice of Supplemental Distribution of a Registered Pesticide Product (EPA Form 8570-5)with the EPA.
The primary registrant enters into a manufacturing agreement with the toll blender and the distributor (if different) for manufacturing and distribution. Under this agreement, the EPA-accepted formulas, labels and quality specifications are shared with the blender and the distributor (see Form 8570-4). The Confidential Statement of Formula (CSF) lists all the components in the product and their percent by weight, along with some additional information. Producing the formula according to the CSF is required by law in order for a blender or manufacturer to distribute products.
Once the CSF is shared from the registrant, the authorized producer must follow the instructions in order to preserve the efficacy and maintain quality consistent with the originally registered product. These requirements include sourcing both active and inert ingredients only from approved suppliers, manufacturing according to the blending instructions, and verifying quality. Labeling and marketing the product must align with the registered master label.
After both parties have established the product's CSF or "recipe", the distributor must submit the finished product market label to the States for approval; some registrants require internal approval of market labels prior to permitting sub-registrants to file with the States.
Each manufacturer/blender must maintain a master copy of the label on file at each blending/manufacturing facility. The label must meet EPA labeling requirement, including the must have the EPA registration number and the EPA Establishment number on the label.
NOTE: All authorized blenders or manufacturers must register their operations with the EPA and obtain a unique EPA Establishment number, and all authorized blenders and manufacturers are required to report to the EPA regional office a list of products manufactured or sold, and the quantities of each.
State Requirements for Sub-Registered Products
Upon completion of the U.S. EPA sub-registration process, the distributor/marketer must register the product in each state where the product will be sold. And, as noted above, each state assesses an annual fee to allow your product to be sold in that state.
While the application process is similar for each state - requiring EPA approval stamped labels, Safety Data Sheets and processing fees – processing fees and time-frames differ significantly. The approval process (in each state) may take between one and six months, and some states have more stringent requirements than others. (California's that apply to pesticides.)
Third-Party Assistance with EPA Supplemental Registration Process
EPA registration and supplemental registration processes are detailed (for good reason) and can feel daunting. Several experienced companies (like Lonza, Pilot Chemical and Stepan) offer third-party assistance in obtaining EPA registration and supplemental registration, and some legal firms that specialize in environmental regulation, EPA registration and supplemental distribution also provide guidance in navigating the supplemental registration process.
Supplemental package navigation
Label and CSF guidance
Manufacturing issues
General inquiries about entering the US market
Lonza's Supplemental Stewardship Program, for example, works with customers from the beginning of the process, starting with submitting a Supplemental Request Form. The company then helps the customer complete the necessary items including the supplemental distribution agreement, review and approval of product label(s), and other documents required for supplemental registration.
Lonza reviews the submitted package, and importantly, works with the applicant to ensure the product (market) label is correct before submitting final documents to the EPA. Remember, "the label is the law."
Thanks to the Experts in EPA Sub-Registration
We are grateful for the time and assistance technical expert John Koduru, Marketing Manager Michael VanderDrift, CSHO, SHEP, and Bill Woods, Technical Marketing and Training Manager at Pilot Chemical, provided in explaining and answering questions about the sub-registration process with the EPA. Their help and expertise ensured this blog's accuracy.
Our extensive facilities offer 500 million pounds of plant capacity and more than 500,000 square feet of manufacturing and warehousing space. Royal Chemical has more than 80 years of experience and provides tremendous flexibility and capability in both liquid compounding and dry blending.
Have your EPA registration number and CSF? We partner with companies to ensure production, packaging and distribution throughout the US. Contact Royal Chemical to begin the manufacturing and packaging processes.