Industries around the world require specialty chemicals to create their products. While all chemical formulations are unique, there are some chemicals that are less common, have specific applications and are produced in smaller batches – specialty chemicals. In this blog article, we'll discuss:
The role of specialty chemicals
Industries that use specialty chemicals
The future of specialty chemicals
What to look for in a specialty chemical company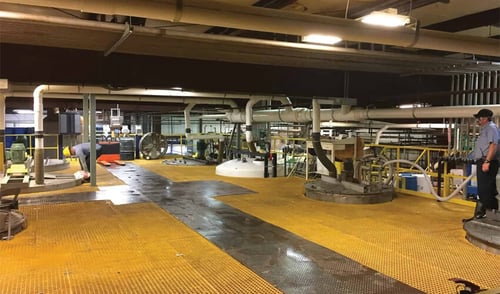 Understanding Specialty Chemicals and Companies
To understand specialty chemical companies, it's important to first understand the differences between specialty chemicals, also referred to as performance chemicals, and commodity chemicals.
Commodity chemicals are common chemicals that are produced in bulk by many different manufacturers. They are everyday chemicals that can be used in different ways by various industries.
Specialty chemicals are typically made in smaller-volume batches and address a specific need. They are more complex in nature and fewer chemical manufacturers can produce them. Specialty chemicals can be used to accomplish a specific task on their own or as an ingredient in a finished product. For example, the industrial & institutional cleaning industry uses disinfectants, which can be used on their own or as part of another product.
Specialty chemical companies can offer the unique service of creating specialty chemicals. They must have deep chemical expertise in addition to:
Iron-clad confidentiality
Quality production, including safety and compliance
Raw-material buying power
Specialized equipment
Flexibility to meet customers' specifications
Many toll blending or contract manufacturers can produce commodity chemicals, but not all can produce specialty chemicals.
Markets That Require Specialty Chemical Blending
According to S&P Global, in 2021, industrial and institutional cleaning was one of the world's largest specialty chemical segments. The healthcare sector often requires chemicals that are biocompatible, sterile and safe for use, making specialty chemicals crucial for these applications.
Other industries, such as metal cleaning, laundry products and detergents and car care products require chemicals with precise compositions and properties. Specialty chemicals are formulated to exact specifications to ensure consistent and reliable results for these applications.
Regulatory compliance is another consideration for industries that require specialty chemicals, such as food processing. A top-tier specialty chemical company will be able to meet these regulations and provide safe and compliant solutions.
The Future of Specialty Chemicals
The specialty chemical market is anticipated to grow at an annual rate of 5.1% from 2023 to 2030. Some of the key drivers of this growth include:
Product Performance Enhancement - Specialty chemicals improve the functionality, durability and efficiency of products and give products a competitive edge, creating demand across sectors.
Sustainability Opportunities - With an increased focus on sustainability from all industries, specialty chemical companies are creating chemicals using environmentally conscious processes.
Market Growth - There is rising demand for specialty chemicals in the pharmaceutical, personal care products and construction and building industries. This is due to increased research and development into specialized chemical products with cutting-edge features and benefits.
Why Choose Royal Chemical for Specialty Chemicals?
When choosing a specialty chemical company to manufacture your unique product, it's important to find a partner that aligns with your needs and expectations. At Royal Chemical, every job we complete is custom and every partnership is unique. Your products depend on the quality of the chemicals used in their formulation and that's exactly why quality is our top priority.
We offer:
Liquid Blending – We have 60 liquid mixers and eight liquid bottling lines, mixers for any composition and the versatility to handle difficult-to-blend materials.
Powder Blending – We have paddle and ribbon blenders to produce capacities from 500-7,000 pounds per batch. In addition, we have blenders with spray bars to enable liquid additions and support. Our powder blending site in Macedonia, Ohio, is ISO 9001:2015 certified, EPA registered and NSF certified, ensuring it can meet the needs of many industries. We can also conform to kosher and halal standards.
Packaging – Our packaging capacities range from 2.5-5,000 gallons. Our bottling lines can efficiently fill 8-ounce to 2.5-gallon bottles, as well as powder jar-filling and powder pack lines. We can transload materials from a bulk container, such as a tank truck, and repackage them to meet your specific needs.
Warehousing – With our five strategic locations, we have 250,000 square feet of warehouse space to store products before shipment and help you manage your inventory. Our connections to trusted freight providers can manage the delivery of your products.
Contact us today so we can discuss your specialty chemical product needs.