The biggest variables affecting the agrochemical business (like weather, and markets) cannot be changed – or perfectly predicted. This means that the way you manage factors you can control makes all the difference in your agriculture product line's profitability and long-term viability.
That's why decisions like the partners you choose to assist in your chemical blending process carry tremendous consequences. Choosing a custom toll-blender isn't a simple exercise–it requires careful thought. Asking the right questions will help you determine if a potential partner is a good fit for your line and your company.
Choose a reliable partner for reliable results
While your customers know that the chemicals they buy are regulated by the Federal Insecticide, Fungicide, and Rodenticide Act (FIFRA), when it's time to buy, they aren't looking for the EPA's assurance – they're buying your brand's assurance.
If your brand is going to represent "reliable results," you need to find a reliable chemical blender that understands your customers and their needs, too.
To help we're offering some decision-making advice based on 80 years of blending and manufacturing experience in the agrochemical sector. These five key issues to discuss with a blender will make sure you're working with the right custom chemical manufacturing company.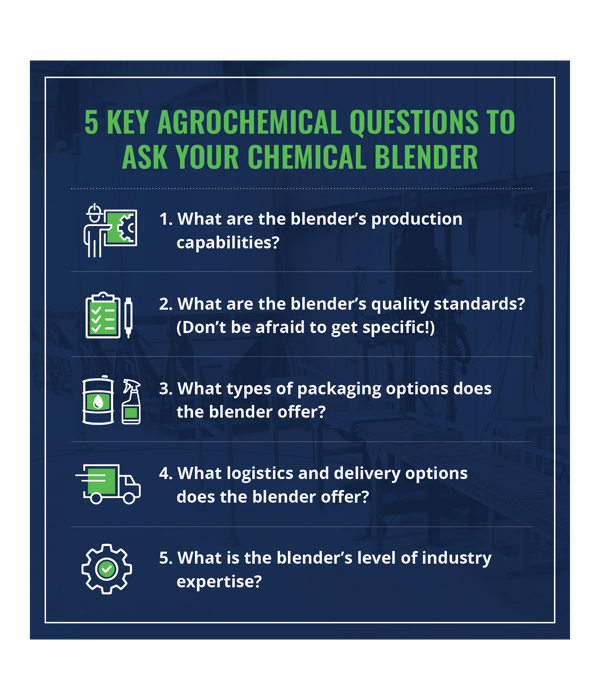 1. What are the blender's production capabilities?
The timely application of any agricultural insecticide is key to maximizing crop production. Months of intense planning precede each season, and as the season approaches your success, and your customers' success, may depend on your ability to zig or zag very quickly.
We recommend looking for a FIFRA-compliant chemical blender close to your largest customers or distribution area. Although many toll blenders and custom manufacturers have multiple offices, production facility location - and the capabilities of those locations – is much more important.
Beyond production locations, be diligent in selecting your production partner based on your partners' capabilities as well. Your product quality depends on it. Ask any potential partner for the EPA number and location of the manufacturing facility where your product will be made.If your products may be manufactured in multiple facilities, find out how the blender ensures consistency across plants.
2. What are the blender's quality standards? (Don't be afraid to get specific!)
Quite simply, quality standards = customer satisfaction = customer loyalty. If your herbicide is formulated to stick to broadleaf weeds and its moisture content varies due to poor packaging, it won't work as expected and your customers won't buy your brand again. If your insecticide is formulated to kill larva but an ingredient used in the formulation is too light, your product may blow away in a strong wind, meaning your customers will lose crop yield and you'll lose customers. If you aren't convinced that quality and consistency are paramount to your blender, keep looking.
We recommend asking a lot of questions about water. Water temperature can dramatically affect a formulation. Quality standards and testing protocols are critical. Be to also find out how your blender adjusts formulations in different batches based on inactive ingredients, or variations in water pH that may occur in different plants or due to seasonal changes.
As mentioned in the example above, packaging also affects product quality. Ask your blender about its supply chain management process, which should be a documented part of its quality assurance program.
3. What types of packaging options does the blender offer?
Agrochemical formulations require a wide range of packaging options depending on customer size, distribution methods and myriad other business, formulary and regulatory requirements.
Even if you don't need a tanker option now, your next customer could ask for one, and it will make you look great if you can immediately say "Yes! We do offer that!"
Packaging options a blender can offer include, but are not limited to:
Tankers
Totes
Drums
8 oz to 2.5-gallon bottles
Dry packaging options:
Super-sacks
Drums
Pails
Bags
Pouches
Bottles
4. What logistics and delivery options does the blender offer?
Fresh chemicals? Sounds like an oxymoron! But you want to know if your blender will be able to ship quickly. The less distance your products have to travel the better.
Ask about logistics and distribution capabilities. Ideally, if your line includes regional blends, you'll select partners located in or near customers in each region. Shorter delivery routes cut costs and ensure more timely deliveries which makes it much more likely you'll sell through your inventory.
Additionally, be sure to ask about substitutions and supply management. Estimates of customer demand are just that – estimates. Different variables affect every season. What are your plans if you need to increase a particular product line or offer a substitute due to a shortage? What happens if you need to increase an order amount. Does that slow production or shipping time?
You want to find a blender that can help you make good decisions about your product line. Ask your manufacturing partner about flexibility, contingency plans, and how they accommodate change orders.
5. What is the blender's level of industry expertise?
In the chemical business, big brand names don't always guarantee longevity or expertise in the market. Ask specifically how long certain types of products have been made in the blender's various facilities, and find out who the blender partners with.
For example, at Royal Chemical, we have eight decades of experience in blending and packaging adjuvants, nutrients, and crop protectants, putting us a head above many of the other blenders. Our staff is active in professional organizations and well-connected enough to reach out to other experts in the field to get dependable advice and solutions to our customers' most difficult problems. We happily answer questions and provide specific information to customers.
Need assistance in managing the production, quality, and cost of your agricultural products? Looking to outsource production during the busy season? Royal Chemical has been improving the quality and yields of America's farmers over the past 80 years. All five of our EPA-registered plants are equipped to handle the production of insecticides, herbicides, fungicides, nutrients, adjuvants, and biologicals. Our capabilities include liquid and dry blending, a wide range of packaging options, and warehousing and fulfillment services.
Want to expand a line? Add a private label product? Experts say the process can take up to 10 months. Learn more about how Royal Chemical serves the agrochemical industry.