Do all these terms confuse you?
Safety Data Sheet (SDS)?
Material Safety Data Sheet (MSDS)?
Hazard Communication Standard (HCS)?
Globally Harmonized System of Classification and Labeling of Chemicals (GHS)?
Occupational Safety and Health Administration (OSHA)?
Not sure where to start with ensuring your custom blended chemicals meet all international regulation standards?
Royal Chemical is dedicated to helping our customers through the chemical manufacturing process from start to finish. While our expertise is in chemical blending and mixing, our team ensures that our customers have the knowledge and assets to ensure their final products meet all regulations. This includes guiding our customers through how to create an SDS. We partner with Infotrac to assist our customers through the SDS authoring process.
What is a Safety Data Sheet?
A Safety Data Sheet (SDS), formerly known as a Material Safety Data Sheet (MSDS), is a document that provides information related to the occupational health and safety for the use of chemicals and substances to workers in an occupational setting. The document includes the chemical's:
Properties
Physical, health and environmental hazards
Protective and safety measures
Storage and transporting precautions
An SDS also provides additional information on the chemical, such as personal protective equipment (PPE) that a user may need to wear, first aid procedures if there is an incident and spill cleanup procedures.
Who Uses an SDS?
Employers are required by Occupational Safety and Health Administration (OSHA) to have SDSs accessible to all employees who handle hazardous chemicals in the workplace. Facilities that use chemicals must obtain an SDS that is specific to each chemical that is used by employees. Employers may provide an SDS in whatever way is most convenient as long as employees have immediate access to the information without having to leave the work area and a backup is available for quick access in case of an emergency. Any time a chemical is transported, the driver and possibly HAZMAT (Hazardous Materials) would require an SDS to know the hazards of the product being transported. In addition to those who use chemicals in the workplace, consumers may want to see if there are hazards involved with a product they are purchasing, whether that be for home improvement or automotive mechanical work.
What Needs to be Included in a Safety Data Sheet?
The Globally Harmonized System of Classification and Labeling of Chemicals (GHS) has created a standard specification for safety data sheets. All SDSs must follow a 16-section format that has been internationally agreed upon. The 16 sections are:
Identification – Identifies the chemical and its recommended uses.

Hazard Identification

– Identifies the hazards of the chemical in the SDS, including the hazardous material's classification and category.
Composition/Information on Ingredients – Identifies what ingredients the product contains. This section includes information on substances, mixtures and trade secret compounds or mixtures.
First Aid - Describes the care that should be given to an individual who has been exposed to the chemical.
Fire-Fighting Measures – Provides recommendations for fighting a fire caused by the chemical.
Accidental Release Measure – Details the appropriate response to spills, leaks or releases. This includes containment and cleanup practices to prevent or minimize exposure to people, property and the environment.
Handling and Storage – Provides safe handling and storage practices for the chemical.
Exposure Controls/Personal Protection – Details exposure limits, engineering controls and protective measures that should be taken to minimize exposure.
Physical and Chemical Properties – Identifies physical and chemical properties of the product.
Stability and Reactivity – Describes the reactivity hazards and stability information of the chemical.
Toxicological Information – Details the toxicological and health effects information of the chemical.
Ecological – Provides information on the environmental impact of the chemical.
Disposal Considerations – Provides information on proper disposal, recycling and reclamation practices for the chemical.
Transportation Information – Details classification information regarding shipping and transportation of hazardous chemicals.
Regulatory Information – Identifies additional health, safety and environmental regulations for the chemical not detailed elsewhere in the SDS.
Other Information – Indicates when the SDS was created and when the last known revision was made.
What Types of Products Require a Safety Data Sheet?
Safety Data Sheets should be obtained for each hazardous chemical produced, transported, stored, imported or used in the workplace. Some examples of products that you would typically need an SDS for include paints, cleaners, solvents, sealants, lubricants, compressed gasses, fuels, etc.
Don't Forget Your GHS-Compliant Label for Chemical Products
In addition to a compliant SDS, the GHS requires a specific label for chemical products.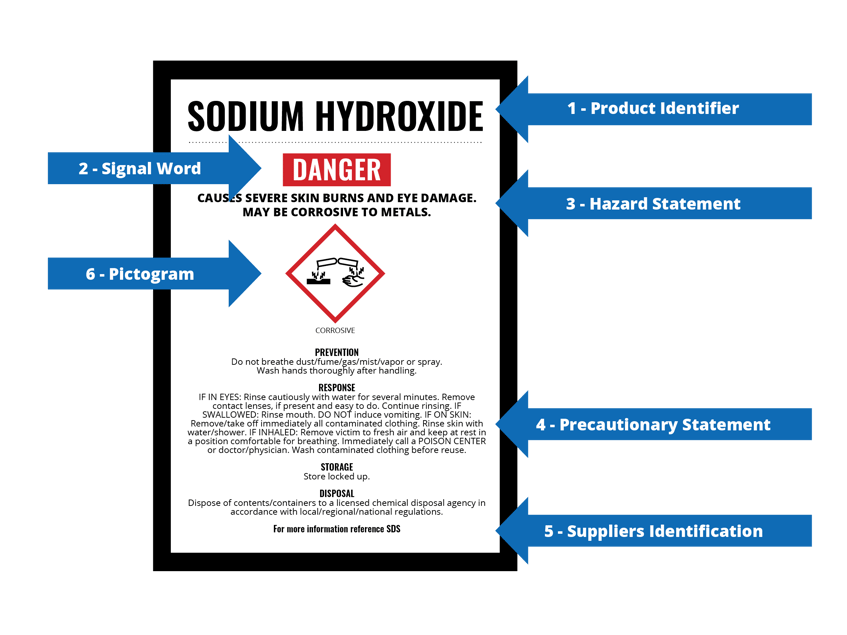 The six elements required on a GHS-compliant label are:
Product Identifier – How the chemical is identified (i.e. all warnings indicators and DOT information) must identically match what is listed on the SDS.
Signal Word – A single word used to indicate the severity of the potential hazard a chemical has.
Hazard Statements – A phrase that describes the nature of the specific hazard a product presents. For more information on hazardous materials for DOT, please contact Infotrac.
Precautionary Statements – A phase describing the action that should be taken to prevent adverse effects from exposure or improper handling of the chemical.
Supplier Identification – Name, address and phone number of the manufacturer or supplier of the chemical.
Pictograms – OSHA-designated and used to communicate the effects of the chemical.
Who Can You Contact to Obtain an SDS?
Royal Chemical understands that creating an SDS can be a daunting task. We partner with Infotrac to help guide our clients. As an emergency response company, they understand the importance of an accurate SDS. Their specialists can work with you to turn your chemical data into a compliant SDS.
Royal Chemical recommends Infotrac as a preferred SDS authoring specialist. Contact Infotrac today to get a quote.