You don't have to be in Idaho in January to suffer the bite of freezing weather.
When imagining the mildest winter temperatures in the continental U.S., it's logical to assume Florida gets the nod. But even Florida can't escape a few instances of freezing temperatures. In January 2018, Orlando notched a low of 28° F. If Florida isn't immune to occasional cold-weather snaps, you can bet every other state is susceptible. Below-freezing weather can hit nearly anywhere and anytime between December and March or even into April. That's more than 25% of the year when products such as chemicals are susceptible to damage from freezing.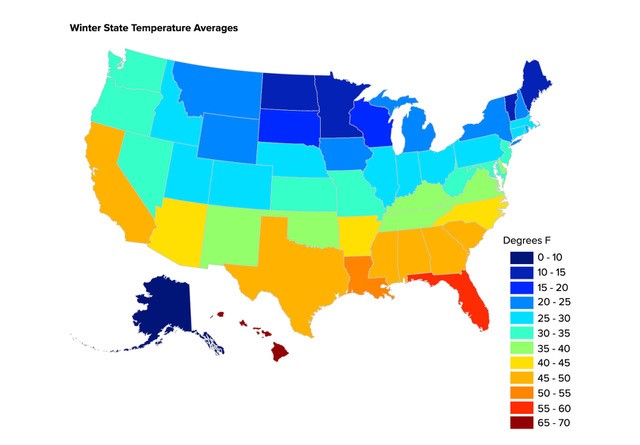 As a custom chemical blender, Royal Chemical knows how critical it is to protect your important investments during shipment—particularly when the outside temperature is prone to dipping below freezing.
Below are key ways Royal Chemical protects customer products against freezing:
Experience and process - We employ a process, based on many years of practice, to handle less-than-truckload (LTL) freight in freezing weather.
Freeze protection services - Specialized Freeze Protection services are the key to preserving products that freeze at or below 32° F/0° C. That includes constantly monitoring AccuWeather for weather systems that could quickly drop temperatures to dangerous levels.
Easily identified shipments - Many carriers have special freeze protection processes. Royal Chemical works with carriers that employ appropriate protection capabilities, such temperature-controlled shipping options. Such carriers also have designated sheltering areas along their routes to hold and protect freezable freight. The most important step in the transportation process is to label shipments and waybills distinctively to easily identify freezable goods.
Up to 83% of the country shipped in one day - Royal Chemical has five plants strategically located around the U.S., in Ohio, Pennsylvania, Tennessee, Texas and California. Because of Royal Chemical's strategic locations, 83% of the country is shippable within one day. Plus, with designated one-day delivery, if you are located in one of the coldest areas of the country your shipment can be prepared for one-day delivery to help reduce the potential for any issues.
Protecting your valuable product during cold-weather months may seem like a major challenge, but it's stress-free thanks to Royal Chemical's years of experience shipping in all types of weather. Royal Chemical has experience in handling all types of chemicals, which means your shipments are protected against the chilling effects of winter. To put your mind at ease about the dangers of freezing during shipping, contact Royal Chemical any time.