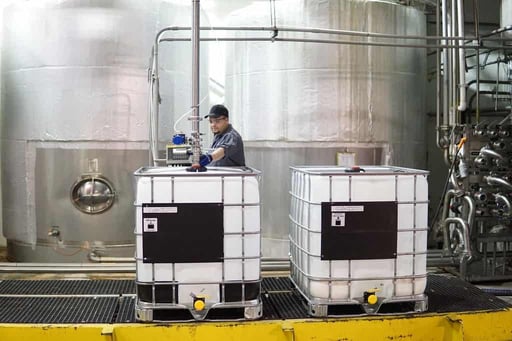 If you're in the business of making chemicals, then you'll likely need durable, reliable and chemically compatible storage containers to send your chemical products where they need to go. These intermediate bulk containers, or IBCs, are manufactured specifically with your company's chemical storage needs in mind.
Here's everything you need to know about the different types of chemical tote containers and how they can keep your business running as effectively as possible.
What Is an IBC Tank?
IBC bulk containers are rigid, industrial-grade tanks that are specifically engineered to hold large amounts of chemical products and raw materials in many forms including liquid, powder and solids.
Depending on the type of IBC tank, you can store just about anything in these super-strong totes, including (but certainly not limited to):
Liquid, granulated, syrup and other types of food ingredients.
Bulk chemicals, including hazardous materials.
Industrial raw materials.
Petrochemical products, including adhesives, solvents, detergents and more.

Plastic IBC Totes
Plastic IBC totes are made of sturdy high-density polyethylene (HDPE), which is capable of use with many different chemical compounds. Many HDPE totes are even rated for food and other consumables as well as hazardous or dangerous chemical solutions and materials in Packing Groups II and III per UN standards.
These plastic IBC containers are also made with a number of important features that protect the solutions stored inside them and help them withstand damage from the environment. Some of these features include HDPE resin that makes these totes food-safe, UV stabilizers that counteract the potentially harmful effects of sunlight degradation and regulation-compliant valves, gaskets, caps and more.
These totes can often be reused (with some limitations, such as caged IBC totes, which are commonly used to transport hazardous materials) and come in a variety of shapes and sizes. Capacities range from 120 gallons to 550 gallons, depending on the type of tote, and can come in specific gravity ratings up to 1.9 SG. You can get plastic IBC totes in a variety of shapes, including an easily stackable cube and cylinders, so you can get just the right shape for your compound.
Some of the key benefits and features of HDPE totes include:
Options of standard-sized mouths, wide mouths, galvanized steel cages and other features.
Easily stackable, which can improve storage and make transportation more efficient.
Can be more cost-effective across work-life expectancy than

cylindrical drums

.
Can withstand corrosion, do not rust and are incredibly durable against tough damage like punctures and impacts.
Usable for practically any material, including industrial chemicals, petrochemicals, paints and dyes, lubricants and greases, pharmaceuticals as well as food and beverage materials.
Stainless Steel IBC Totes
Stainless steel totes are a type of IBC that's made with super-strong stainless steel. This material makes these tanks a very effective solution for storing and transporting bulk chemicals and materials, both hazardous and non-hazardous, flammable and combustible materials, solids and more. These steel totes are cube-shaped, making them easy to stack and haul wherever they need to go.
A stainless steel IBC tote can carry all sorts of compounds and materials, including those that are dense, corrosive, reactive and acidic. They can be used across a number of industrial and manufacturing processes and can be used for petrochemicals, mixing and blending, food manufacturing, beverages, wines and spirits as well as paints, pharmaceuticals and more. These steel containers are also certified to ship via air, rail, sea and motor vehicle.
Steel chemical tote capacities range from 110 gallons to 550 gallons, and sizes range from 42"L x 40"W x 20"H to 42"L x 48"W x 71"H.
Some of the key features of steel IBC tanks that make them the best choice for many manufacturers include:
Advanced chemical resistance that allows these tanks to withstand corrosion as well as safely store and transport food and consumables.
Self-repairing chromium oxide to better prevent rusting.
Incredible hygienic properties.
Heavy-duty material that can withstand impacts, deflect punctures and better protect materials inside.
Repeated usability and increased maneuverability.
Work-life expectancy of 20 years or more, which often makes them the more cost-effective choice in the long run.
Carbon Steel IBC Totes
Carbon steel IBCs are sturdy metal containers that are excellent for storing and hauling many types of chemical solutions and other compounds, including hazardous and non-hazardous materials, liquids or solids.
You can use carbon steel IBCs for a variety of chemical processing, storing and transportation needs for solutions and materials such as:
Oil, solvents and lubricants.
Paints and dyes.
Cleaning and sanitation chemicals.
Petrochemicals.
Some features that make carbon steel chemical IBCs a good choice include quick-filling bungs, vent caps that allow for automatic pressure releases and hoppers that allow for near-complete product draining (so you never waste a drop!).
These bulk containers are nearly as durable as stainless steel IBC tanks but weigh much less because the material, carbon steel, is a metal alloy of carbon and iron. They're a cheaper alternative to stainless steel while still having many of the same benefits of their stainless steel counterparts, including:
Incredible resistance to corrosion.
Can be used in mixing or blending.
Stackable for easy storage and transportation.
One thing that does make them stand out from stainless steel IBCs is the uber-efficient filling capabilities and full interior access that allows for deep cleaning or other processes. They are often 100% recyclable once they've reached their work-life expectancy.
Chemical IBC Totes
Chemical storage containers are specifically engineered for chemical operations, storage and transportation. You can get chemical totes that are high-quality HDPE plastic, commercial-grade stainless steel or carbon steel.
Chemical IBCs range in capacity from 110 gallons to 550 gallons, come in both cube and cylindrical shapes (depending on whether you get steel or plastic).
Frequently Asked Questions About Chemical Tote Containers
Here are some additional FAQs to help you better understand IBCs and how they can work for your business.
How long do IBC tanks last?
An IBC tank is reusable and can last for years. However, lifespans vary depending on the type of materials stored and transported in an IBC and its material.
You can extend the life of an IBC container by using proper cleaning practices, cleaning IBCs regularly and practicing safe handling, transport and storage to prevent damage.
Every 2 or 3 years, you should have your IBC containers inspected to ensure they meet DOT standards and are not damaged. Every 5 years, you must conduct a thickness test to ensure the walls of the container maintain safety standards. Testng can help you determine when you need to retire IBCs and purchase new ones for storing and transporting your chemical solutions.
How much does an IBC tote cost?
IBC totes can cost anywhere between $100 to $4,000 per tote. The cost of an IBC tote depends on what material it's made of and how large it is. For example, plastic chemical totes tend to be the cheapest, especially when buying smaller sizes. You might pay $180 for a galvanized steel caged HDPE tote.
Stainless steel totes tend to run in the thousands because of the cost of steel and the intricate engineering that makes these totes suitable for chemicals that can't be stored or transported in plastic containers. For instance, you might pay closer to $2,500 for a 110-gallon steel tote and around $3,900 for a 550-gallon steel tote.
What are common IBC tote dimensions?
IBC container dimensions vary by container type (plastic vs stainless steel) and capacity. Here are some common IBC tote dimensions:
Finding the right chemical tote for your products and materials can help you streamline your business operations and keep your products secure during storage and transportation. When you know what your options are, you can be more prepared for conversations with tote suppliers and full-service chemical companies like Royal Chemical.
Not sure which tote is right for your business? Trust Royal Chemical to translate your business needs into a tailored plan complete with the best storage and transportation equipment for you. Schedule a free consultation today!