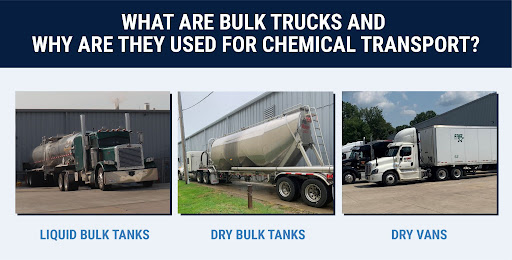 Shipping bulk volumes of chemicals around the country is no simple feat. While safely transporting large quantities of potentially hazardous chemical products or solutions, the most important things you need to know are the local, state and federal regulations.
When it comes to shipping chemical products, knowledge is key. Start by learning how the overall process works, what regulations exist and how the best chemical fulfillment companies get the job done correctly, and the transport process becomes much easier.
Bulk trucks or tankers are semi-truck cabs and trailers that carry various chemical products and solutions around the country. There are a few different types of bulk trucks that chemical transportation companies use for specific solutions:
Liquid bulk tanks: These large stainless steel tanker trucks store large amounts of liquid chemical solutions during transport. The tanker itself is usually made of stainless steel or aluminum and can hold upwards of 3,000 to 7,500 gallons, depending on product density. Some tanks may just be one large compartment, while others have two to four compartments to transport multiple different solutions at one time. Stainless steel tankers are often rubber-lined for protection against corrosive chemicals. Temperature-sensitive products can even be shipped in an insulated tanker or in one with a built-in heating system.
Dry bulk tankers: This type of tanker, also known as a pneumatic trailer, carts around dry powdered solutions and typically aren't used to transport hazardous materials. These tankers have an aluminum barrel with one or more compartments to store different solutions. Capacities range from 500 to 2800 cu.ft. or upwards of 45,000 pounds.
Dry vans: You can also have your product loaded into chemical-safe containers, such as

plastic

or steel drums and intermediate bulk containers (IBC), and shipped using a regular dry van trailer.
All three of these transportation types allow for secure storage and shipment of your chemical products in large quantities, which reduces the time it takes for your products to get to market.
How Chemical Products Are Shipped
If the thought of transporting large quantities of your own product across the country leaves you stumped, you can always work instead with a third party transport company to get the job done. Companies that specialize in chemical warehousing, transport and fulfillment can assist in meeting shipping deadlines and getting your product distributed with little stress on your end.
How do they do it? There is a standard process companies (like Royal Chemical) use to determine what kind of tanker or trailer you need, the route the truck will take and how to handle the little details you may have missed.
The following six-step process shows how the process works, from transmitting product information to the chemical transport company to weighing your product and setting out on the road.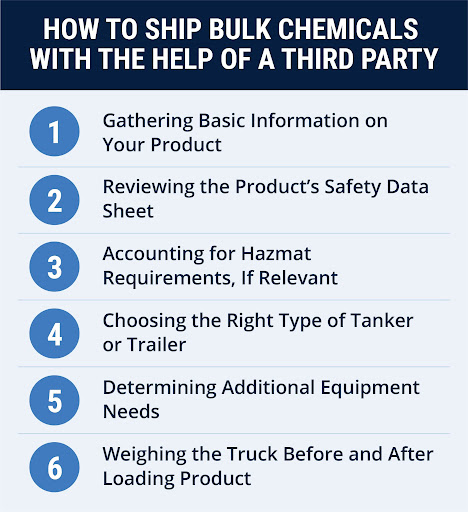 1. Gathering Basic Information on Your Product
One of the first things you will discuss with your chemical transport company are the specifics of your product. Have this information ready:
Are you transporting dry or liquid goods?
Is it a raw material or a finished product?
What are the safe temperature ranges for the product or materials?
Is it a hazardous material or non-hazmat?
2. Reviewing the Product's Safety Data Sheet
The Occupational Safety and Health Administration (OSHA) requires all employees who handle hazmat chemicals in the workplace to have access to a chemical's Safety Data Sheet (SDS). That means your organization must provide the SDS to the transportation company of your choice so that the driver knows what chemical they're transporting and any potential hazards it may pose.
Information the shipping company uses includes:
Density: This is the chemical's weight per gallon, which helps the transport company determine how much space is needed to make the shipment.
pH level: This is the level of acidity or basicity of your chemical, which is used to determine the type of tanker or shipping containers needed.
Viscosity: A chemical's "thickness" is needed to determine how the product will be loaded and unloaded, such as by a mechanical pump or air compressor.
This information is vital when choosing the right type of tanker, trailer and shipping containers (if needed). It also helps the transportation company create an efficient and accurate shipping route and timeline to make sure everyone is on the same page regarding logistical expectations.
3. Accounting for Hazmat Requirements, If Relevant
If your chemical is a hazardous material, then the transportation company must take extra measures to ensure the shipment's safety and meet local, state and federal hazmat transport regulations.
Multiple government institutions, including OSHA, the Department of Transportation (DOT) and the Federal Motor Carrier Safety Administration (FMCSA) have regulations for shipping chemicals. Here are some of the regulations you and your shipping company must take into consideration:
Hazard Communication Standard: You and your carrier should make sure that all relevant parties have access to the SDS before shipping so that you uphold this OSHA protocol.
Hazardous Materials Safety Permit (HMSP): The FMCSA requires shippers of certain hazardous chemicals to have this permit. Transporting these chemicals without a permit is illegal. Some chemicals that require an HMSP include those that are explosive, "poisonous by inhalation," ammonia, methane and natural gas all at certain capacities,

according to the FMCSA

. Carriers can only apply for this permit just before transporting these materials and can only maintain the permit if they are actively shipping these materials.
Hazmat endorsement: The FMCSA also requires hazmat drivers to have the hazmat endorsement (H) on their CDL license, and liquid tanker drivers must have the tanker endorsement (N). Drivers qualified to do both may have the combined endorsement, (X).
Public identification during shipping: The FMCSA requires all shipping vehicles and containers to be accurately labeled with the chemical's class, better known as placards.
Tanker safety features: The FMCSA also requires liquid tanks to have features like internal valves that prevent accidental releases and leaks.
Inspection: The DOT requires that all cargo tanks, including chemical shipping tankers, be regularly inspected for leaks, defects and safety requirements.
Insurance: Hauling hazardous material typically means more extensive freight carrier insurance coverage, including liability and cargo insurance policies. Your organization may need to purchase this coverage. The carrier organization should have it as well.
4. Choosing the Right Type of Tanker or Trailer

Now that the chemical transport provider has your SDS and other basic information about your chemical, they can pick the most secure and efficient method for shipping. For example, the company may determine your highly acidic chemical solution needs shipping totes rubber lined for safe storage and should be hauled on a dry van trailer.


5. Determining Additional Equipment Needs
Other factors to consider when working with a shipping company include:
Equipment requirements, such as temperature control or loading/unloading equipment sizes.
Specific loading and unloading processes, such as rear loading and unloading.
Incompatible prior products, which refers to a list of previously shipped chemicals that were in a tanker before that could cause an adverse reaction or contaminate your product.
6. Weighing the Truck Before and After Loading Product
Before loading the tanker with your product, the driver must weigh the truck first. They can do so on-site at the pickup location, if available, or they may need to stop at a weighing station en route. Once the solution is loaded into the tanker, the driver weighs the truck again to find the difference in weight, which is the weight of your product being hauled.
This information is vital for drivers because they must follow weight restrictions when accessing certain roads and to make sure all of your product is transported where it needs to go safely and without breaking any laws.
It's important to note that this whole process is collaborative since you know your product and chemical shipping companies know how to get products where they need to go. After your chemical transport company of choice has the information about your product, you should work together to determine other logistical elements, like shipping costs, timelines and storage.
How to Choose the Right Chemical Transport Company
You want to choose a chemical transport company with the experience, equipment, licenses and insurance coverage needed to get the job done. Here are the features and qualities you should look for in a chemical transportation company so you know you're getting the best service possible:
Full freight insurance, including liability and cargo coverage
Expertise in shipping many types of chemicals
Knowledgeable of proper shipping practices, tools and vehicles
Efficiency with transportation logistics
Flexibility of shipping services
Government certifications
Dedication to safety
The experienced team at Royal Chemical is well-equipped to manage hauling logistics and heavy lifting so you can free up time, energy and space to focus on your business. We can help you assess your chemical transport needs and identify the most effective solutions for your organization.
For questions on bulk chemical transport or information on Royal Chemical's bulk transport services, contact our team today and schedule a free, no-obligation consultation. Let's get started safely and efficiently shipping your product where it needs to go!